On August 1, 2014, "Career Seminar on International Organization 'UNICEF'" was held in the Presentation Room at Kobe University's Graduate School of International Cooperation Studies (GSICS). The seminar was presented by Mr. Shota Hatakeyama, GSICS Alumni and Education Officer at the UNICEF Zimbabwe. In his presentation, he shared with us what he has been working at UNICEF Zimbabwe as well as how he obtained a job there.
First, Mr. Hatakeyama provided an overview of his work assignments at UNICEF Zimbabwe via three presentations: 1) Multiple Indicators Clusters Survey (MICS); 2) Capacity Building for Research/Survey; and 3)Education Management Information System (EMIS). He explained three different data collection and analysis tools and stressed the importance of capacity building for government officers, who should be able to conduct research effectively and efficiently by themselves.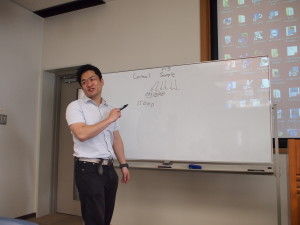 Second, Mr. Hatakeyama explained how he obtained his position at UNICEF and shared with us the recruitment procedures. According to him, there are four ways to join UNICEF: 1) junior professional officer (JPO); 2) national officer; 3) national/ international consultant; and 4) open competition. As for him, he utilized the JPO scheme to apply for UNICEF; however, he pointed out that we should be aware of the reality of the hiring shrinkage in the educational sector at the JPO level. Moreover, he showed us his application documents, such as the P11 form and cover letter, and provided tips on filling out the form and writing a good cover letter.
After his presentation, participants asked Mr. Hatakeyama many questions and he kindly responded to each of them, using examples from his professional experience at UNICEF and World Bank Headquarters. Finally, Mr. Hatakeyama stressed the importance of networking, which should be conducted by the manner of "not how many people you know, but how many people know your work and ability."
Mr. Hatakeyama will start to work at the UNICEF Headquarters, as a junior education economist, starting in the fall. We want to thank him for providing us with his useful and valuable seminar since many of Ogawa seminar students are very keen to work for international organizations including UNICEF. We wish him the very best in New York City.
Related Link:
http://www.kobe-u.ac.jp/en/NEWS/event/2014_08_01_01.html
Category:
Career Seminars