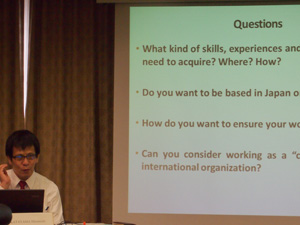 On August 12th, 2014, the "Career Seminar on International Organization "UNESCO (Task Force on Teachers)" was held in the Main Conference Room in Kobe University's Graduate School of International Cooperation Studies (GSICS). The seminar was delivered by Dr. Hiromichi Katayama, who is a GSICS Alumni and Project Officer at the UNESCO Headquarters in Paris, France. In his presentation, he shared with us on how to obtain a job in international development organizations, especially in UNESCO.
Dr. Katayama presented, first of all, his career path briefly. He has had professional experiences at JICA, World Bank, UNESCO Institute of Statistics, OECD, and UNESCO Headquarters. Then he asked the participants the following four questions: 1) What kind of skills, experiences and expertise do you need to acquire in order to obtain a job in international organizations? Where and how can such skills and knowledge be acquired? 2) Do you want to work in Japan or outside of Japan? 3) How do you want to ensure your work-life balance? 4) Will you consider working as a "consultant" of an international organization? The participants asked Dr. Katayama many questions and he kindly responded to each of them, using examples from his professional experience at UNESCO and other international organizations.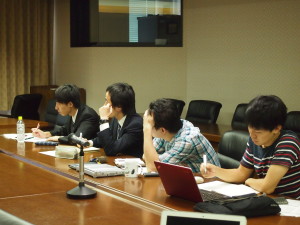 The questions raised by the participants are: 1) To what extent do I have to acquire econometrics or quantitative analytical skill?; 2) To what extent do I need to learn foreign languages such as French and Spanish, rather than English?; 3) What are the differences between UNESCO and World Bank in the educational sector?; and 4) How should I think of developing my career path at age 40s-50s?
Regarding the question on differences between UNESCO and World Bank, Dr. Katayama explained it from the perspective of the scope of work, the approaches to education issues, and the ways with which each organization collaborates with governments.
We would like to thank Dr. Katayama for providing us with his valuable advice on how we should prepare ourselves for positions in international organizations and wish him the very best in Paris.
Related Link
http://www.kobe-u.ac.jp/en/NEWS/event/2014_08_12_02.html
Category:
Career Seminars