On Monday 29th June 2015, a seminar titled "Education Finance and Administration" was held in the main conference room of Kobe University's Graduate School of International Cooperation Studies (GSICS). This seminar is under the Japan Society for the Promotion of Science (JSPS) Core-to-Core Program (Asia-Africa Science Program), implemented by GSICS since 2014. The JSPS Core-to-Core Program is coordinated by Prof. Keiichi Ogawa and seeks to promote young researchers from Asia and Africa, under the theme "Study on Education Finance and Administration: A Sustainable Program to Nurture Young Researchers."
The above JSPS Core-to-Core Program seminar was the first in the year 2015. Researchers from core institutions in Japan and abroad presented their new research findings in English. The seminar provided opportunity to assess the progress of joint research initiatives under this program, as well as confirm the analytical framework and the cooperative structure for this year's joint research.
The participants in the seminar comprised invited researchers, graduate students from Kobe University and trainees attending the Group and Region-Focused Training by Japan International Cooperation Agency (JICA), which was implemented by GSICS from early June to mid-July. In total, more than 50 researchers and practitioners participated in this seminar. The seminar was structured into two parts, with part one focusing on Asia and part two on Sub-Saharan Africa. Four JICA trainees served as discussants (two for part one and two for the second part) to share their comments on the presentations.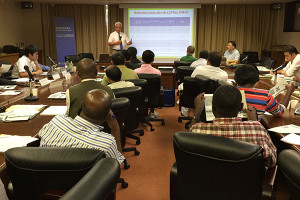 Part 1 was titled; "Education Finance and Administration in Asia." Two Emeritus Professors from two core institutions in Asia, namely Dr. Ki-seok "Korbil" Kim from Seoul National University in South Korea and Dr. Anurak Panyanuwat from Chiang Mai University, in Thailand presented findings from their respective research on education finance and administration in their countries. After them, Assistant Professor from one of the partner institutions in Japan, namely Dr. Jun Kawaguchi from Osaka University, delivered a presentation about his comparative research on education policies for pupils with disability from a perspective of finance.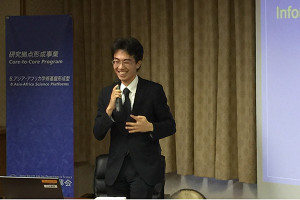 Part 2 was titled; "Education Finance and Administration in Sub-Saharan Africa." This part commenced with presentations by two doctoral candidates from GSICS, namely Mr. Katsuki Sakaue and Mr. Jeje Moses Okurut. These two graduate students were given opportunity to share findings from their Ugandan case studies related to education administration and finance since one of the key objectives of this program is to nurture young researchers like them. The last presenter, Prof. Keiichi Ogawa, shared findings from his empirical study about Malawi's educational finance and administration under universal primary education (UPE) policy. The study was jointly conducted with Dr. Joseph Chimombo, who is also from one of the core institutions in Africa.
At the end of each section of the seminar, young researchers, most of whom are graduate students from GSICS, were given the opportunity to ask questions in order to deepen their knowledge and understanding of education administration and finance in Asian and African regions.
Authored by Katsuki Sakaue
Doctoral Candidate
Related links
http://gsics-core2core.com/
http://www.kobe-u.ac.jp/en/NEWS/event/2015_06_29_01.html
http://www.gsics.kobe-u.ac.jp/index.html
Category:
Core to Core Seminar