It has been my great pleasure to have such an opportunity to attend the Kobe Visiting Scholar program at FHI 360 for six weeks to gain a better understanding of the international education sector and to contribute to work in a meaningful and substantive way.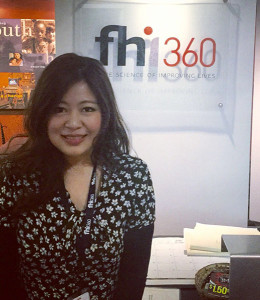 FHI 360 is a non-profit human development organization dedicated to improving lives in lasting ways by advancing integrated and locally driven solutions. FHI 360 also envisions a world in which all individuals and communities have the opportunity to reach their highest potentail in the areas such as health, education, nutrition, environment, economic development, civil society, gender equality, youth, research and technology. FHI360's services are available in more than 60 countries all over the world.
During my internship at FHI 360, I was a member of the Global Education (GE) team whose work focuses on education-system strengthening, policy and system reform, education data and information systems, monitoring, evaluation and research, capacity-building and performance improvement, school leadership and curriculum assessment. For further specific explanation of tasks, our team worked closely not only in subject matters such as early childhood development, early grade reading and math, middle grades and secondary education, but also with other departments on gender equality, ICT for education, inclusive education and child health and nutrition.
My major task with the GE team is to be involved in the USAID's Basic Education Program (BEP) in Kosovo, which is a five-year program, jointly funded by USAID and the Government of Kosovo. It is designed to benefit all public schools serving grades 1 to 9. It also aims at supporting reforms introduced by the Ministry of Education, Science and Technology (MEST) such as enhancing school management capacities in the decentralized environment; strengthening the assessment of learning outcomes and improving in-service teacher development.
During six weeks at FHI 360, what I benefited the most from my supervisor Steve and other program colleagues is to witness how they love the Kosovo BEP project. All of their thinking is full of love to Kosovo; what they considered, what they worried about are all for Kosovo BEP. Their passion and care for the Kosovo BEP deeply made me feel that the more you love your project the more benefit the project's beneficiaries would have. One more lesson that I have learnt here is that every project has its own challenges; and most of the difficulties could not be solved in a short time. For example, communication may be delayed sometimes. In a worse case, a distance between country office staff and home officer may be created due to the problems. Thanks to my colleagues at FHI 360, I have learnt how to make the situation better in that case: keep insisting on showing your cooperative attitude and your devotion to their difficulties as well as your willingness to support so that they will feel safe and comfortable with you, then they would like to speak out their problems and may ask for your help. If we can do that, things will become not so much difficult.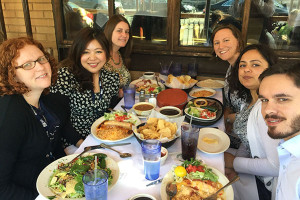 With all those above experiences I have gained during my internship, I could now clearly realize what I really want to do in the following days as my whole life job which I am really into. In addition, I was encouraged to take advantage of opportunities to attend internal and external events as well as conduct informational interviews and share the results with colleagues.
Since my research interest is education in Myanmar, I attended an external event named Myanmar's Burden of High Expectations that was organized by Carnegie Endowment For International Peace. My impression from this seminar is that Myanmar is a country where people are very nice, friendly, guileless and unadorned. In Myanmar, there are not many opportunities for children particularly those from poor families to go to school everyday. Education (going to school) is not a basic need for everyone there. However, what shocked me the most is the fact that even they don't have a chance to go to school, they keep a habbit of doing some reading everyday. That explains why the literacy rate in Myanmar is higher than other deveopling countries during such a long dark time that Myanmar people have had in the past years. That fact inspired me more to insist on my study on Myanmar and inclined me to try to obtain a field study in Myanmar without worries since the meeting with nice Myanmar people will benefit me a great memory.
All in all, what I gained at FHI 360 and Washington, D.C. will definitely contribute to my study at GSICS and strongly motivate me to find my way in the research journey. Last but not least, I would like to express my gratitude to my academic supervisor, Prof. Ogawa, who recommended and encouraged me to conduct internship at FHI 360 and offered continued support towards the accomplishment of my internship. Likewise, I would like to thank my school and faculty GSICS, Kobe University where I am studying and will continue to work harder to deliver the best action!
My specific duties and responsibilities during the internship at FHI 360:
Use Google Earth to map the general information on school demographics and programming information (number of professional development programs delivered, number of teachers trained, materials provided, etc.) on the partner schools in Kosovo.
Aggregate relevant project-based materials and deliverables to facilitate sharing more broadly across other Global Education programs such as South Sudan, Hinti and so on.
Got involved in the management of the online education database at the USAID's Basic Education Program (BEP), a research and analysis unit within the Global Education Group.
Attend a number of internal pre-presentations for CIES at FHI 360 to learn about the Global Education development in diverse sectors and contribute to discussions on how to standardize proposal archive.
Participate in a number of external events in D.C. think-tanks that focus on issues of global education, such as Wilson Center, Center for Strategic and International Studies (CSIS), Carnegie Endowment For International Peace (CEFIP), and Brookings.
Engage with staffs throughout FHI 360 to learn about different sectors of the organization, including Global Education and Youth Development, Environmental Protection, Social Marketing and Communications, Health and Research, Economic Growth and Human Resource.
Jun XU
Research Student
Category:
Internships